EUROPE - LPCB Type 1 Single Interlock Surefire Preaction System With Electric/Pneumatic Release System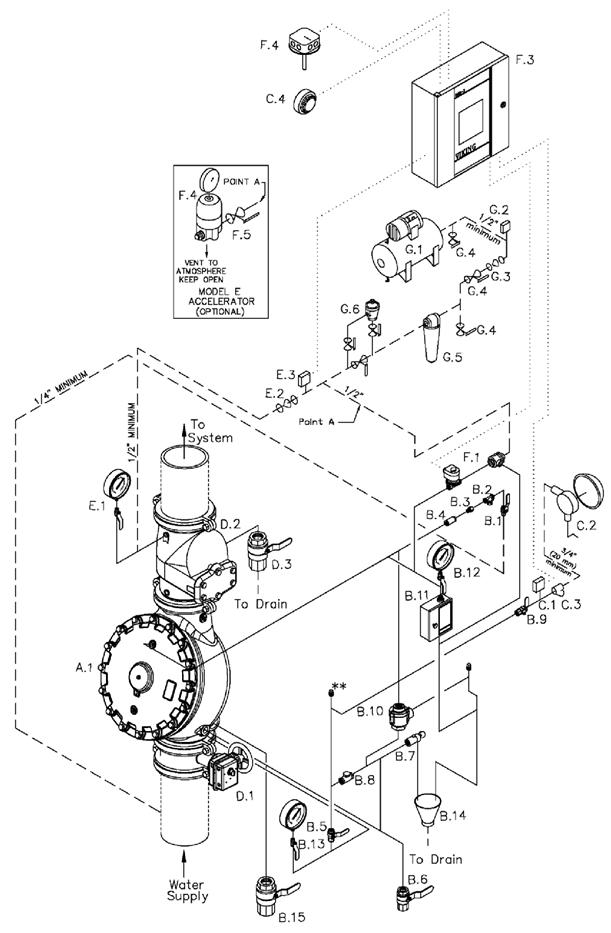 Viking LPCB Type 1 SUREFIRE® Single Interlocked Preaction Systems utilize a Viking Model E Deluge Valve (A.1), a Viking Easy Riser® Check Valve (A.2), a System Control Panel (E.8), and conventional trim, together with additional valves, and devices to form a unique operating system. The system piping is pneumatically pressurized to monitor the integrity of the piping, fittings and sprinklers and to act as a fail-safe emergency backup to the electrical detection system. The system piping is normally dry and may be installed in locations subject to freezing. Built in with special features to minimize accidental water damage, unlike other systems, it may be installed where the detector and/or sprinklers are easily damaged or broken accidentally.

In addition to special features that offer perfect fail-safe modes, the Viking LPCB Type 1 SUREFIRE® Single Interlocked Preaction systems also provide excellent fire protection environment with or without electrical power. They are equipped with batteries that provide up to ninety (90) hours of emergency power. If the AC Power fails and the battery backup power expires while the system is in the automatic set mode, the preaction system will "fail-safe" when a sprinkler activates, and continue flowing until the system is manually shut-off.
Documents and Resources
Technical Data & Instructions
Drawings
Viking Systems Posters