VK636 - Mirage QREC Light Hazard ELO Concealed Pendent Sprinkler (K11.2)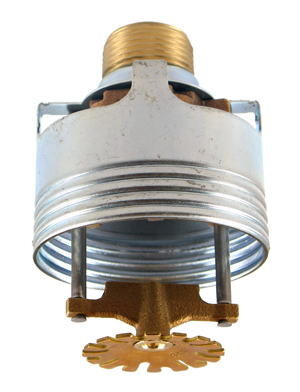 The Viking Mirage® Model VK636 Quick Response Extended Coverage Light Hazard ELO Concealed Pendent Sprinkler is designed for installation on concealed pipe systems where the appearance of a smooth ceiling is desired. The sprinkler is designed with an extra-large orifice and a special deflector to meet Light Hazard density requirements for specifically listed extended areas of coverage at lower pressures than standard or large orifice sprinklers.
With a K-factor of 11.2 (161), the quick response VK636 has a cULus listing for up to 20 x 20 ft. (6.1 x 6.1 m) coverage areas.
This flat plate concealed sprinkler is available in 165°F (74°C) and 205°F (96°C) temperature ratings. The sprinkler's cover plate assembly, which offers ½ inch (13 mm) of vertical adjustment, is offered in 135°F (57°C) and 165°F (74°C) temperature ratings. The cover plate is available in several standard finishes, including chrome, white, ivory, and black as well as a nearly unlimited number of custom colors.

Like all Mirage® concealed sprinklers, the VK636 includes an easy "push on, thread off" cover plate. Viking also offers special tools for its Mirage® line allowing the installer to remove the sprinkler's protective cap and install the cover plate without using a ladder.
Documents and Resources
Technical Data Sheets
Drawings
Revit® Files
Product Quick Reference Guides
Catalog Page